The design of artificial flowers originated from western developed countries. Because fresh cut flowers and fresh plants have been studied to breed various harmful microorganisms in people's living spaces, they have been rejected by hospitals and high-end residences. The artificial flowers that have emerged at the historic moment have become a new direction for those who chase flowers. .
Because artificial flowers are mostly made of silk, silk, and cloth, they are very environmentally friendly; and because of their realistic and magical flower effects, they satisfy people's desire for flowers; in addition, the designers use charming color matching, clever collocation, and high-end The materials that make the artificial flower jewelry step into the noble and elegant fashion hall.
Imitation flower jewelry has been a big success as soon as it is launched. From homes to hotels, from individuals to groups, from decorations to gifts, the ubiquitous artificial flowers have created a market value of tens of billions of dollars in the world. As a rising star, the Chinese market is also increasing at an annual demand rate of 35%. Last year, the market size reached 15 billion yuan.
Artificial flowers, also known as artificial flowers, silk flowers, and silk flowers. There was a poem saying that "the flowers at home are undefeated, and the red flowers and green leaves are always there in spring", making the characteristics of artificial flowers vivid. The artificial flowers can not only stay fresh and beautiful for a long time, but also allow you to do whatever you want according to the season and needs: spring is in full bloom by you, summer is cool and handy, autumn can be golden to represent harvest, winter can be warm with red eyes; roses can be used to express love at any time, Pick peonies anywhere to pass blessings. The vivid appearance, various shapes, longer viewing period and richer styling techniques are all strong reasons why people love artificial flowers. In China, artificial flowers have become a frequent item. Whether they are opening celebrations, wedding banquets, office spaces, and home environments, there are artificial flowers. According to reports, the sales of artificial flowers are increasing at a rate of 40% every year.
Artificial flower manufacturers say that in foreign countries, especially in developed countries in Europe, America and Southeast Asia, more and more people love handmade products. Artificial flowers are more popular for their unique advantages. In 2004, my country's artificial flower exports reached 60 billion, becoming export earners. One of the important industries. The shape of the artificial flower is free and varied, and it can be shaped by various methods such as weaving, folding, folding, rolling, winding, bending, tying, and sticking; the artificial flower uses a wide range of materials, such as yarn, hemp, wool, wood, and polyester. Materials such as, non-woven fabrics, paper, and polyester can be used as raw materials. Wide range of materials, easy-to-learn technology, random shapes, and easy-to-sell products are the fundamental reasons why the artificial flower processing industry is favored by more and more small and medium investors. The shape of the artificial flower is lifelike, delicate and vulgar, but its vitality is long, and it does not have the slightest squeamishness of flowers: the flower stems are arbitrarily bent, the flower leaves are curled at will, the petals are not afraid of rubbing, and will not be deformed, which is convenient for storage, packaging and transportation. It is the direct driving force for the flourishing trade of artificial flowers.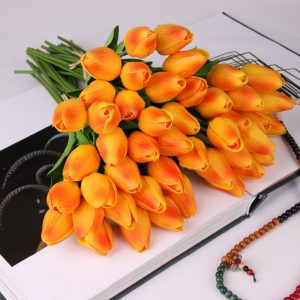 li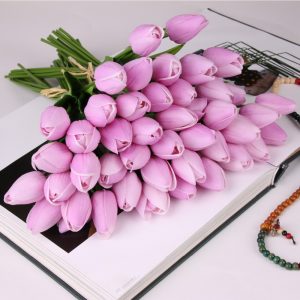 p